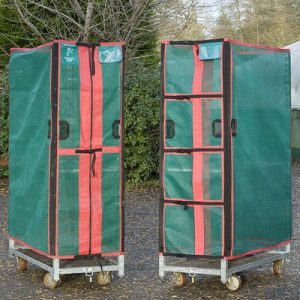 Designed and patented by Douglas Baird, the tranjack trolley jackets fit the "Danish Trolleys" used throughout the horticultural industry. These jackets provide a better quality, more environmentally friendly and cost effective method of protecting plants during transportation than the widely used cling wrap.
Corachie Clematis produce four types of trolley jacket; two are designed for transportation, one is designed for transportation and display, and one is a propagation jacket allowing customers to put their Danish trolleys to an even wider range of use.
(Right: Standard and Extended jackets)
 • Standard Jackets. This is the original design of trolley jacket made from a durable pvc coated mesh with reinforced edgings and strengthened corners. The front of the jacket meets together with a zip fastener as well as three clips.
• Extended Jackets. Made to the same high build quality as the standard jacket these jackets are identical except that they have no zip, instead they have an "Extended" flap of material at the front so that both sides overlap, and five clips to fasten the jacket with.
• Display Jackets. This is a high quality mesh jacket like the jackets above but is very different in its design and use. Designed so the stock can be protected during transportation and then sold straight from the trolley without the need to remove the jacket. Access through the jacket to the trolley is via the long side of the trolley facilitated by a double zip entry allowing the side flap to be lifted out of the way so that stock on the trolleys can easily be seen. The flap can be rolled up and secured with the clips attached to the top of the jacket.
• Propagation Jackets. This Jacket is made from a heavy duty translucent mesh reinforced plastic material, it has a roof and double zip entry down the long side of the trolley.  When closed it creates a humidity preserving enclosure, enabling nurseries to put the Danish trolleys to new and more versatile uses.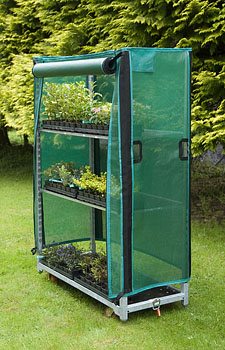 (Above: Display Jacket and Propagation Jacket)
For more information or to order please contact us though the wholesale contact details on our contact page


Corachie Clematis also acts as a depot for Container Centralen, to book trolley hire or repairs please contact Container Centralen (01322 294267).