Supplying high quality plants to garden centres across Scotland for over 20 years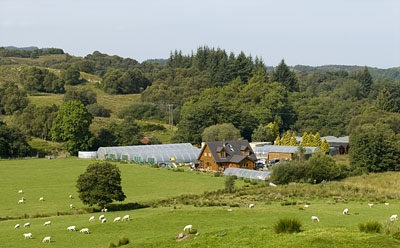 Corachie Clematis grows and wholesale's plants to Garden Centres across Scotland and into England. The plants we sell range from clematis and climbing plants, of which we are a specialist grower, to shrubs, herbaceous grasses, ferns, conifers, bedding and fruit trees.  All our stock is grown to Garden Centre Standard and we also offer pre-pricing and bar-coding services (except  for bedding plants).
What Products do We Wholesale ?
Clematis and other Climbers
Shrubs, Hebaceous
Grasses, Bamboos, Ferns and Conifers
Bedding Plants
Ornamental and Fruit Trees
How to Order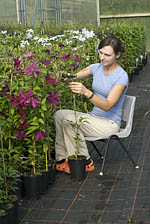 Each week we stock take and produce an availability list of plants that are looking good. We send the availability list out on a Thursday night or Friday for the following week.
We accept orders for that week until 4pm on the Monday and aim to deliver to you before the weekend (English Garden Centres please allow an extra week). An order must be 100 plants or more to qualify for free delivery to mainland UK.
Several small Scottish Nurseries and high quality English fruit tree growers, along with ourselves, all supply stock on a weekly basis as it is ordered by our customers. We then pre-price and barcode (if required) the stock and deliver to you before the weekend. Please note that plants from England are delivered the following week.
Download The latest Corachie Clematis wholesale availability list.